Sometimes the market equilibrium outcome is perceived by certain groups or individuals to be unfair or unjust. Societal values may dictate that the market outcome be altered. Government can intervene in markets in any number of ways, including the banning of the production and consumption of certain goods and services entirely. Government can also regulate heavily industries such as banking that it deems too sensitive to be left alone. We focus on two methods of government intervention: price ceilings and price floors.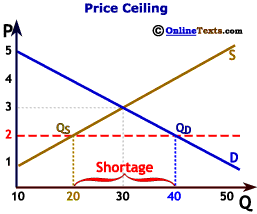 A price ceiling is a legal maximum that can be charged for a good. The ceiling is shown by a horizontal line at the ceiling price which--to be effective--is set below the equilibrium price. The figure titled "Price Ceiling" illustrates a ceiling at $2. At a price of $2 quantity demanded is 40 units and quantity supplied is 20 units. The result is a shortage in which quantity demanded exceeds quantity supplied.
Common examples of markets with price ceilings are apartment rentals and credit cards. Some municipalities such as Santa Monica, California impose maximum rents that can be charged for given apartments. For example, a ceiling of $1,000 per month might be set on two-bedroom apartments. In addition, some states have usury laws where interest rates are prevented from rising beyond a certain level. Credit card issuers in those states cannot charge interest rates above the ceiling.

Are these price ceiling justified? It depends. Equity is a subjective concept. Invariably, price ceilings help some groups and hurt others. For example, caps on apartment rents help tenants who pay below-market rents but hurt landlords and other prospective tenants who are shut out of the market due to the shortage. Santa Monica is plagued with buildings that landlords abandoned because the buildings became unprofitable to operate. Hence, the total supply of apartments in Santa Monica is lower than it otherwise would be.
Intervention in markets should not be taken lightly because often serious by-products emerge. With apartment price ceilings, underground markets often appear in which landlords and tenants agree to the "official" contract rate but tenants agree to make additional side payments. In addition, if landlords cannot set prices, they begin to adjust the quality of their apartments, letting them fall into disrepair. Some tenants end up living in unkempt conditions and are afraid to report the landlord because they may find themselves homeless if the landlord quits renting the apartment.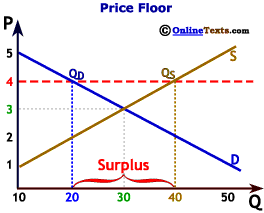 A price floor is a legal minimum that can be charged for a good. The floor, as shown in the figure titled "Price Floor," is represented by a horizontal line. To be effective, the floor must be set above the equilibrium price. In the figure the floor is set at $4. Quantity demanded is 20 units and quantity supplied is 40 units. The result of the floor is a surplus of 20 units. Common examples of price floors are found in agricultural markets such as sugar, wheat and milk. The minimum wage is also a price floor because it sets a minimum dollar amount that employers can pay employees.

As with price ceilings, the same tradeoff occurs between equity and efficiency with price floors. Some groups benefit while others lose. In the case of the minimum wage, those who are able to find the higher paying jobs benefit. Employers who must pay higher wages lose along with those in the labor force who cannot find jobs because wages are too high. Agricultural price floors benefit farmers at the expense of consumers. Nevertheless, society has thus far deemed the benefits received from the price floors to be worth the costs.
---